New Home, New Food Adventures: Allyson's Top Four Favorite Recipes
Then I discovered something amazing when I moved into my new home, still in love with food but without the budget to eat out regularly and no one volunteering to make dinner for me. I can cook! And not only can I cook…but I'm actually pretty good at it and it's fun! Not everything I've made has been great. There was the time I made sauce so spicy I felt my taste buds dying as I tried downing anything that would relieve the heat. But overall I've had more successes than failures and I've slowly been building up my own stock of favorite recipes. If you're like me and love food, but aren't quite confident in your cooking skills yet, give these a try!
Smoked Sausage Penne Pasta
This is a newer recipe for me, but ever since I found it my husband and I have been in love! Although it takes a bit of time because everything has to cook down, it's super easy!
2 tablespoons of olive oil
2 peppers, chopped
1 onion, chopped
1 teaspoon of minced garlic
4 links of spicy smoked sausage
1 package of penne pasta (about 16 ounces)
Garlic and herb seasoning pack (kind of cheating, but so good!)
Salt and pepper to taste
Get the pasta cooking! Start a pot of slightly salted water, bring to a boil, and then cook pasta for about 11 minutes. Drain.
Heat oil in a large skillet (you'll want a big one!) over medium heat. Stir in peppers, cook for about 7 minutes. Then add the onion and cook for about 7 minutes. Add garlic and cook for 3 minutes. Make sure to stir occasionally so nothing burns!
Stir in sausage, reduce heat to medium low, and cover for about 10 minutes.
Add drained penne pasta to the sausage mixture. Mix in the seasoning blend, salt, and pepper. Make sure everything is mixed together evenly and wah-lah! You're done!
Strawberry Freezer Jam
I was nervous to try making jam. It just seemed so advanced! But this recipe made it look easy so I decided to give it a try and was thrilled with the results! Be warned though…there's a reason it tastes so delicious. There's a LOT of a sugar!
2 cups of crushed strawberries
4 cups of sugar
1 package (1.75 ounce) of dry pectin (This is often in the kitchen supply section!)
¾ cup of water
Mix the strawberries with the sugar and let it stand for 10 minutes. While you wait, stir the pectin into the water in a small saucepan. Bring it to a boil over medium-high heat, and boil for 1 minute. Stir the boiling water into the strawberries. Allow it to stand for 3 minutes before pouring to jar/storage container of your choice.
Cover the containers and let it sit for 24 hours. Put it in the freezer and keep it there until you're ready to eat it! The longer it's in the freezer the better it sets up.
Spread it on EVERYTHING!
Barbecue Chicken Bake
No need to explain why this is amazing—the name says it all! And SO easy!
Cooking spray
8 slices of bacon
2 chicken breasts, each cut in half
Barbecue sauce…as much as you want! I would say at least ¾ cup.
Pre-heat the over to 350 degrees. Spray a baking dish with the cooking spray.
Cook bacon in a skillet until the edges begin to crisp (about 5 minutes), and then drain the bacon on a paper towel. Place 2 pieces of bacon on each piece of chicken in an X-shape and put it on a baking dish with the bacon wrapped underneath.
Bake in the over for 30 minutes. Then spread the barbecue sauce over it and put the chicken back in the oven and bake for another 15 minutes.
And done! Be warned…humans aren't the only ones who approve this recipe! Our sneaky dog made off with several pieces of chicken while we weren't looking!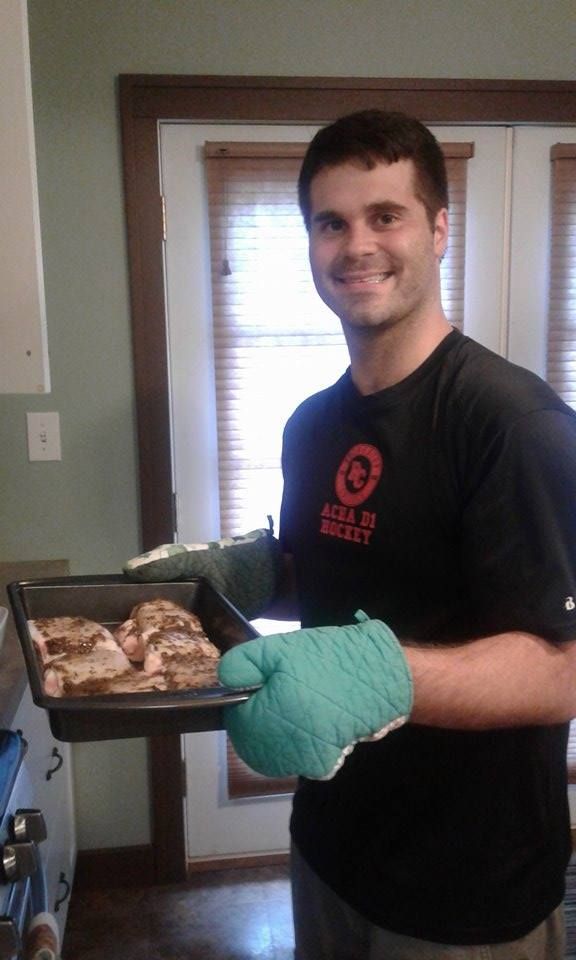 Mini Meatloaf
This was fun to make and made great leftovers!
Cooking spray
1 pound of ground beef
½ cup chopped onion
½ cup rolled oats
¾ cup of milk
1 egg
1 teaspoon of salt
2/3 cup of ketchup
½ brown sugar
Preheat oven to 350 degrees. And spray a baking dish with cooking spray.
Mix ground beef, onion, oats, milk, egg, and salt together. Divide into 8 portions, each in a loaf shape. Put them in the baking dish.
Stir ketchup and brown sugar together. Spread over the meat loaves.
Bake for about 40 minutes.
It's great with veggies and mashed potatoes!
The kitchen is one of my favorite rooms in the house. I love the memories and the food that is made there, and it's even worth all the dirty dishes afterward. Even if you're a cooking novice and are nervous about boiling water, I encourage you to give it a shot! Some pretty wonderful things can happen in the kitchen.
-Allyson Stinnett