Both of my grandfathers are military veterans. My Grandpa Stewart served as a Navy mechanic in the Pacific theatre of the second World War. My Grandpa Yoakum served right after the Korean war as a Navy photographer. Neither of them talked much about their experiences in war-time. I am certain they both saw and experienced things that shaped and changed them. I can't tell you a lot about their time in the military, but I can tell you about who they are.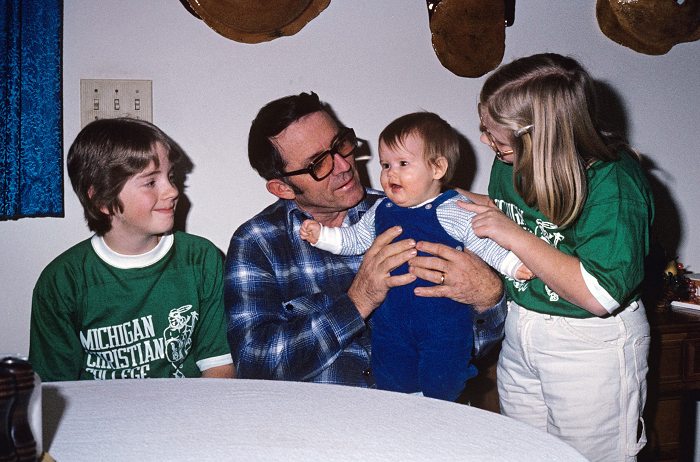 My Grandpa Yoakum was a quiet man, unless someone decided to misbehave at the dinner table. Then, watch out. For my grandpa, dinner was a time to put on your best manners and behave with a level of decorum that expressed your gratefulness for the food in front of you and the company surrounding you. He usually had a smirk on his face and a hammer, a Bible, or a guitar in his hand (The above photo is him holding me in 1980 with my aunt Anne and uncle Dale next to us).
He was a commercial construction foreman who traveled all over the Northeast and Midwest for work, and in his spare time he built instruments: dulcimers, mandolins, and guitars. He picked at his string instruments, listened to the dulcet blue grass tones of Alison Krauss and Randy Travis, and cared for my Grandma in a way that brings me to tears. Every night, he rubbed her feet, numb from neuropathy, with lotion and love. He smelled like Listerine and wood. My grandpa died in a car accident in 2000, driving home with my grandma from their weekly night out to Toledo for a nice dinner. I miss him.
My Grandpa Stewart is 92 (The photo above is him holding me in 1980). For most of his life he owned a shoe store, Ken's Shoes, in downtown Corunna, MI. Every time I smell real leather, see the Hush Puppies logo, or spot a bolo tie, I think of my grandpa. If eating at the Yoakum home was an experience in manners, eating at the Stewart home was an experience in beautiful chaos. My grandpa and grandma had six kids,16 grandkids, too-many-to-count great-grandkids, plus all of their spouses/significant others. The house was crazy town, especially on Christmas Eve, when the whole family gathered.
My grandpa loves his church, loves his Bible, and loves his family. His study book shelves were lined with commentaries, and I loved exploring the back-room of the shoe store with its boxes of yellowing receipts and books and shoe-polish, the remains of decades of business. He and my grandma, up until very recently, took long road trips all over the USA on motorcycle, and they loved taking off in their motorhome on a whim (usually without telling anyone where they were going). I've watched him love and care for my grandma over the past several years as she suffers with Alzheimer's. His love for her is inspiring.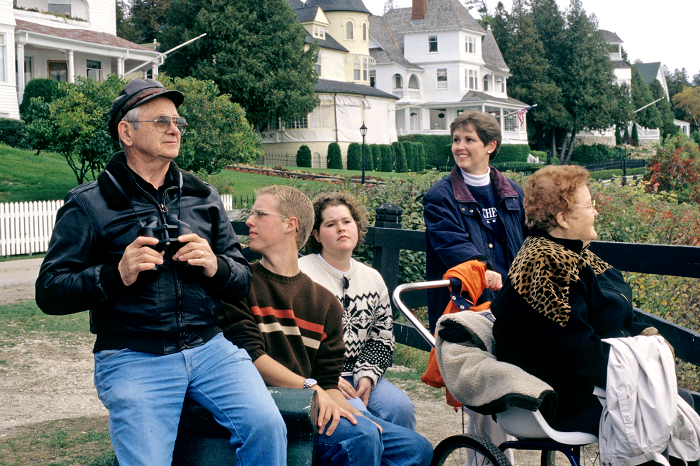 Behind every woman or man who serves/served in the military is a story, a family, a life—both the ones who lost their lives in military service and the ones who came home. Today I remember with honor, respect, and gratitude those two special men in my life. I remember with gratefulness the legacy and foundation they built.