The Mountain Ate My Nose: What I Left on Mt. Kilimanjaro and The Things I Will Never Give Back
Mystics call them "thin spaces:" moments in time and space in which heaven and earth collide; where the physical and spiritual meet; when the inescapable feeling of otherworldliness creeps in on reality; A feeling of intense focus; a deep realization of how human we actually are; and a knowing that we hold just a small piece of a very big universe. Yep, there's that.
But also, the grit of an 8-day long journey: sharing a child-sized potty chair (that's really the best way to describe it) tent equipped with damp toilet paper with 3 other people and being excited about it as opposed to the whole-camp-shared squatty-potty drop toilets. No showers or running water (I ran my hand through my bandana encased hair around 6 days into the trip and found 3 pieces of gravel and a small twig...just, wow). Dirty clothes, smelly socks, moleskin encased feet, sleeping bags, below-freezing temps every night, altitude headaches, lack of personal space and boundaries, and yeah, this wicked cold sore IN my nose...the mountain really did eat my nose.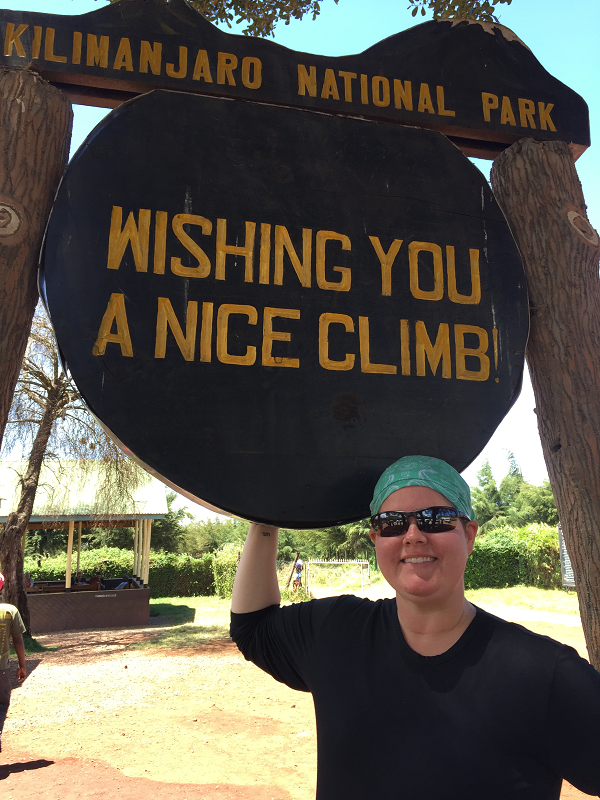 We set off early on a Wednesday morning. Meet in the gardens of the hotel, weigh your bags, settle your nervous energy, and wait for your guides and crew to pick you up. In the din of the moment, we (Brian, Katy and me) met Sjoerd, a solo-hiker from The Netherlands who was, coincidentally, doing an 8-day Lemosho route hike up Kili. Oh, so are we! And we load up in the Zara tours jeep, all together...Well, our new Dutch friend...I hope you weren't set on a solo climb because it looks like you've been placed with the Americans!
The first thing I left on the mountain: Control. Control is a facade. The truth is, as tightly as I try to control my circumstances, I have very little say in how life rolls. And that's probably a good thing. From the few days prior to the climb, I very quickly learned that even the best-laid plans are never a guarantee. In the end, there is a freedom and an element of pleasant surprise when I walk into a situation with my hands open rather than fists tight. I want to walk through life with more freedom, and Kili is teaching me more about that.
In the four-hour ride from Moshi to the starting point of our climb, we (Beth, Brian, and Katy) went from 0 to 60 with our new climbing companion, Sjoerd, talking about geography (Americans apparently suck at European geography!) politics, religion, vocation, family...and I quickly realized that all the "free-time" I envisioned on the mountain may look a little differently than I had imagined (Sjoerd brought along a 1000+ page novel as well - I'm not sure that he got more than a few pages into it the whole climb...).
And then, just like that, we unloaded from the vehicle and started the climb.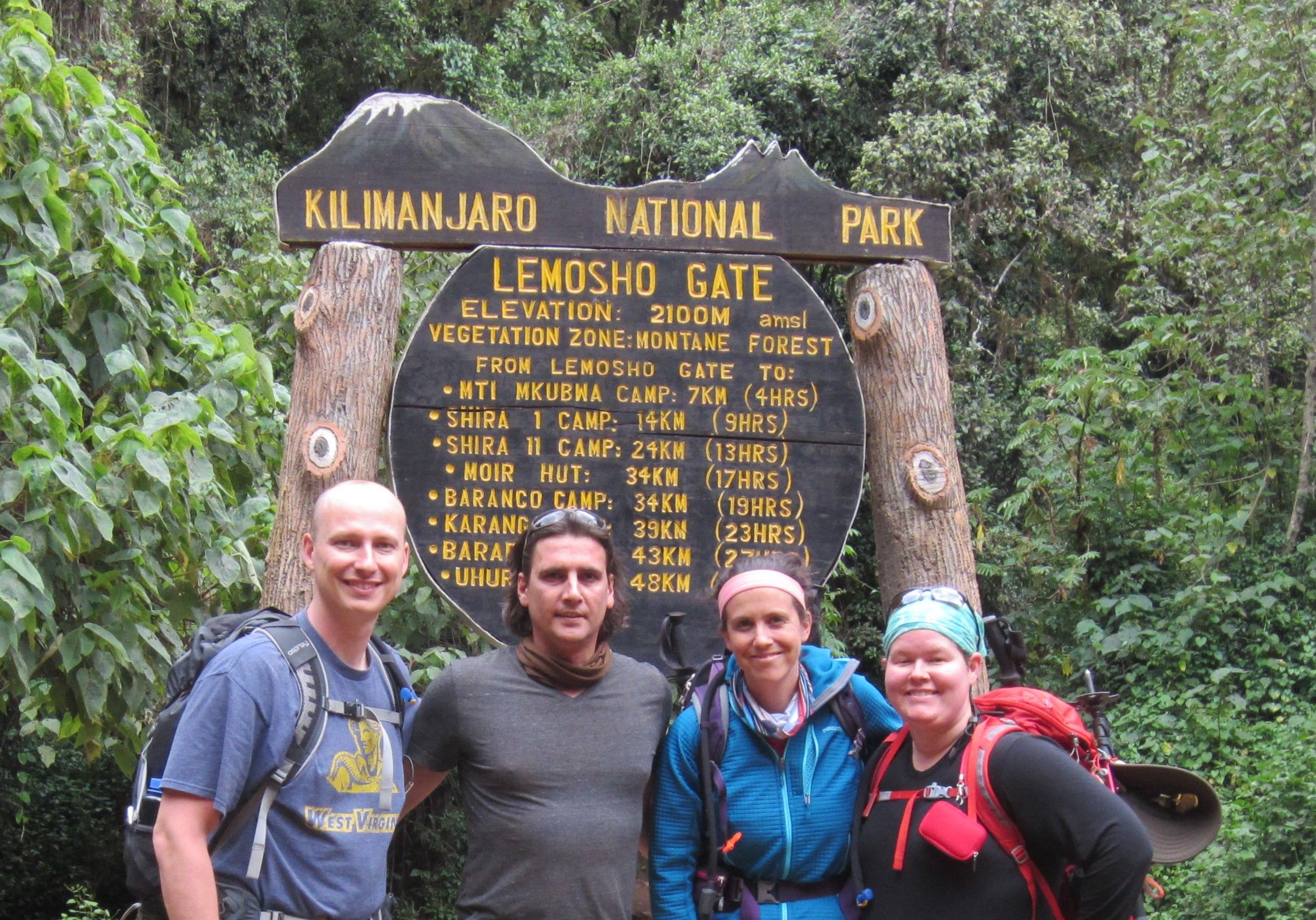 I remember thinking, after that first day, "that wasn't so bad!"
We fell into a routine once we hit camp each afternoon/night: get our stuff unpacked, rinse off the day's dirt (well, sort of...we mostly abandoned all attempts after the first couple of days), and then emerge into the mess tent to hang out. I nerded out with my official Kili guide books and regaled everyone with the most pressing and relevant information, Brian and I journaled, Katy did her level best to stay warm, we taught Sjoerd "Euchre," and Sjoerd taught us "Chasing Hearts." We talked; we laughed; we commiserated on each days' highs and lows. We did life together for a week.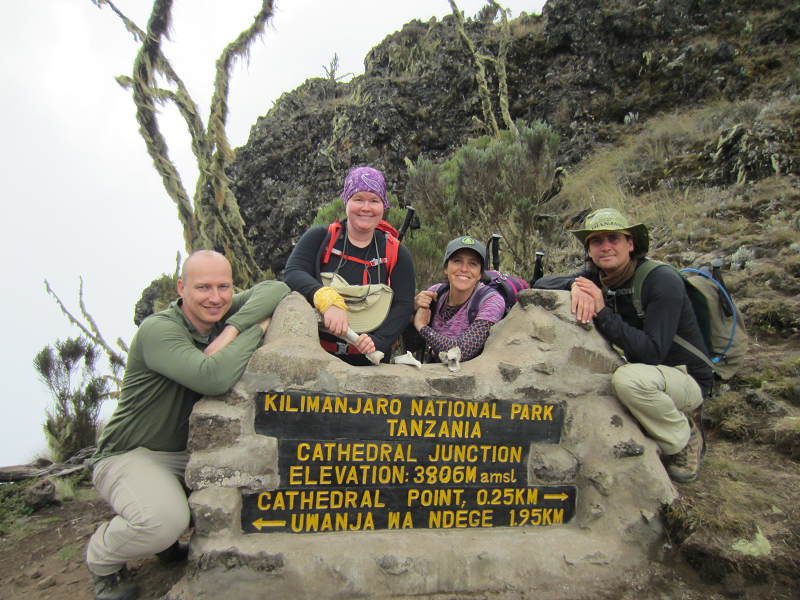 The first thing I will never give back: the knowing of and desire for authentic community. It's amazing, really, how quickly you come to know someone when you are forced into a situation like climbing a mountain. We shared a lot together. I've been married for 16 years and I still learned more about and grew closer to Brian on the mountain. Katy and I, not close before our trip, became fast friends in Tanzania and the mountain formed a unique bond unlike any other I have with a friend. And Sjoerd - as different from the three us as can be, became a brother, and in one week we four knew each other more deeply than people I have known for years. Community and friendship is a gift unlike any other.
Days 2 and beyond surpassed day 1 in difficulty by varying degrees. It became our mantra never to believe our guides when they told us in our briefings the night before each new day, that the next day's climb "wouldn't be as steep or long as day 2..." LIES. Each day was always steep and long. And as the days waned on, the air became thinner and each step became more taxing. We had to walk slow. And when I say slow, I mean SLOW.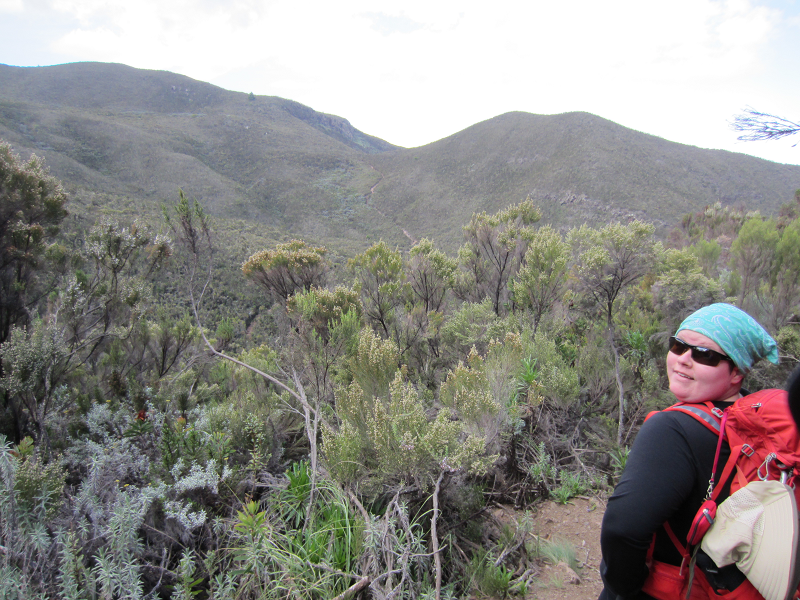 The second thing I left on the mountain: My tendency to speed through life. I am SO GOOD at speeding through life. I do it in every way in all areas of life: my work, my to-do lists, my leisure activities, my relationships, time with my kids...I love checking off boxes and moving to the next thing. The mountain invited me...well, she forced me, really....to SLOW DOWN. I would not have made it to the top if I hadn't walked slowly (painfully slow, sometimes). I literally couldn't breathe unless I walked slowly: There are so many lessons pouring out of that simple statement. I want to walk through life more slowly - breathing in deep every relationship, experience, joy, and sorrow.
The trek became harder each day, regardless of the specifics of terrain. We were tired, cold, and oxygen deprived. The joke became, whenever someone did or said something stupid: "altitude." We never, though, lost our ability to laugh...though sometimes it had to wait until a "good" night's sleep. More on that in a bit.
The second thing I will never give back: seeing the beauty in front of me. Each day, from day 2 on, we arrived at our destination camp in mid-afternoon, and each day brought with it clouds and rain/snow upon arrival. It then it was dark by about 6:30 or so. And then the stars came out. I wish I could say we gazed for hours. But cold always won the night, and we retreated to our candle-lit mess tent. But the stars were incredible -- more stars than black. And then, in the wee hours of the morning (I got into a "let's wake up at 5:30 a.m." kind of routine...), we saw what was hidden each afternoon/evening before at our new destinations. Kibo peak, our final destination, looming in the background. Words and pictures are inadequate. But what I will always carry with me is the desire to see what is in front of me. Every moment of every day, looking for the beauty.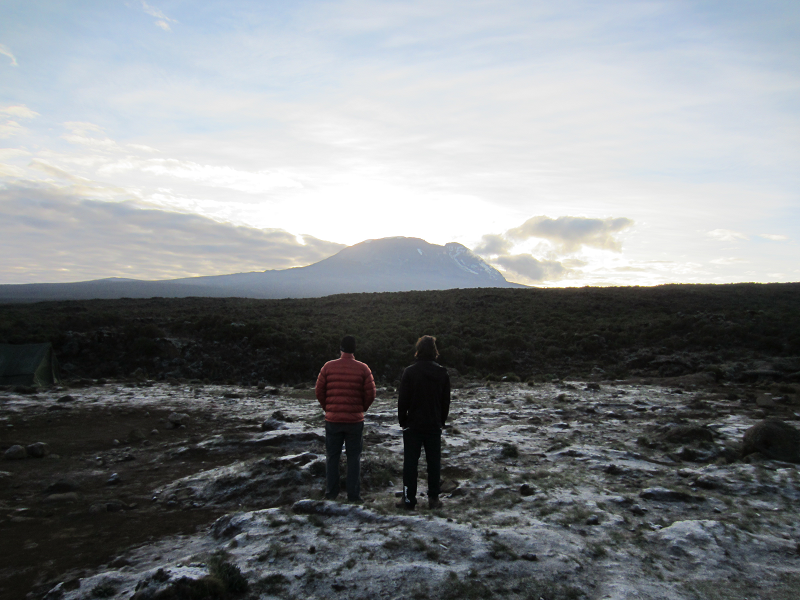 Each morning Kibo peak loomed closer, and our push to final summit edged to the forefront. What had been, to this point, an academic exercise in preparation was now becoming reality, and it scared me. You can only read so much about what something will be like, but boy did I try to read the crap out of it!
The third thing I left on the mountain: My dependence on myself. I have always prided myself in being a "self-starter." I am a perfectionist. I am prepared. I have done my homework. I have hiked 350 miles and climbed thousands of stairs in preparation. I can take care of myself! What I very quickly learned on the mountain is that I am woefully incapable of doing life on my own. On summit night, our assistant guide, Godfrey, was literally putting chapstick on me and unzipping and rezipping my coat and giving me my camelback straw to save me having to take off my gloves. Abdi, our guide, got us into a slow and steady dance in the cold darkness of one foot in front of the other for 7 hours, and when my mind said "no more," the joined communal dance led me up. I found myself reciting mantras with every step, not "you can do it, Beth" but "I need thee" and "God help me." I couldn't do it on my own. I would have failed. We made it up. Sjoerd, about 30 minutes ahead of us and heading down while we were almost up, in his Sjoerd way, (we'll leave that to your imagination!)...urged us onwhen I said, "I don't know if I can make it!" It takes a village.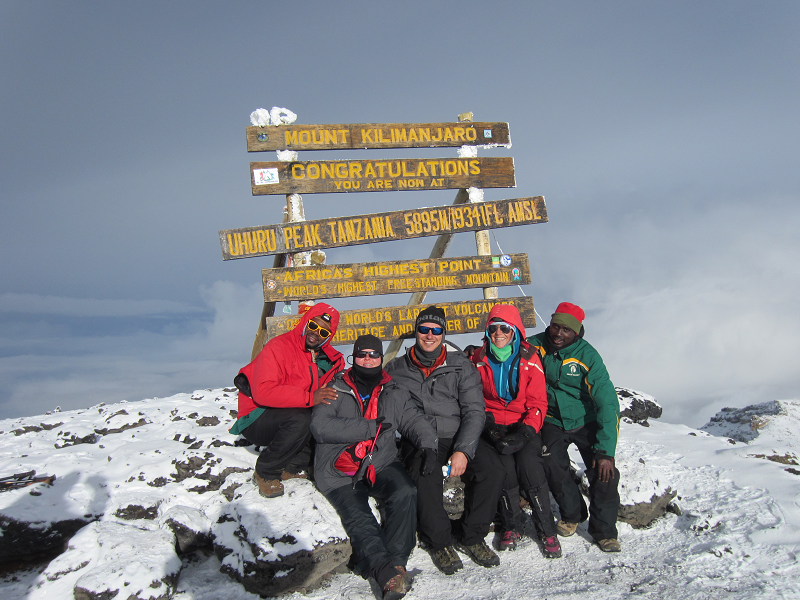 And when I was tired to the bone and having difficulty breathing on the way down from the summit, two porters practically carried me, one on each side, down to base camp. After two hours of rest, we all left to descend for 4 more hours to our final camp. It was BRUTAL. We were tired, nauseated...knees and feet aching...you name it. We arrived and all fell asleep by 7:30 p.m. It was a dark night - despite our victory that morning no one was "well" when we turned in that night.
The third thing I will never give back: believing that every new day is a gift. I will never forget the morning after the summit - the morning we came down. It was early, and Brian and I were still in our tent. We hear, from outside, "Top of the morning, friends!" in Sjoerd's terrible fake southern accent...and we all start laughing. It was a new day. Despite the ills of the night before, we embraced the gift and headed down, our adventure coming to a close. I have been through hard seasons of life, and joyful seasons of life, and I know that will always be the reality. I have the chance, though, every day, to believe that the new day brings new life and new possibilities.
Kilimanjaro may have eaten my nose, but it gave me many gifts and allowed me the space to leave some things behind. I had a lot of thin space moments on this climb, and I leave this experience grateful, knowing that it has shaped me and will continue to shape me.
P.S. Honey Badger don't care (that's for you, Brian, Katy, and Sjoerd!)