Summer vacation looks a bit different this year so we're helping you embrace the STAY-cation!
We're all trying to stay closer to home this year, and while that might mean your typical summer vacation was canceled, it doesn't mean there's no way to enjoy the summer. So, we've compiled a list of staycation spots within driving distance of Rochester. Stay safe and enjoy!
1. Greenfield Village
Did you know that Greenfield Village and the Henry Ford museum have reopened their doors? They're welcoming guests while prioritizing safety for everyone - you can read about all the precautions they're taking here. If you're ready to step out of the present for a bit (and let's be honest, who isn't?) and jump back in time, you can do so while strolling across 80 acres full of the sights, sounds, and experiences of America's past. This is a great place for the whole family to enjoy or a just-the-two-of-you escape. Bonus is that it's just a short drive so you can skip the travel anxiety and hassle!
2. Tree Runner Adventure Park
Looking for something a bit more adventurous? Tree Runner Adventure Park may be the place for you! Located nearby in Bloomfield Hills, this park allows you to experience nature in a whole new way - specifically, from above! Many of us have exhausted our hiking and biking options, so if you're up for an aerial view, this park offers options for beginnings to experts seeking to get off the ground. Masks and social distancing are required, and you'll need to make reservations in advance. If you can't go far, it's at least nice to get a new perspective.
3. Meadowbrook Hall
This gem is basically in Rochester's backyard! If you haven't been to Meadowbrook Hall, now is the time. This early 20th century home was built by the Dodge family and has all the grandeur you might expect to come with that famous automotive name. With its 110 rooms, stained glass windows, and expansive grounds, it's like stepping into a different world just around the corner from your home. If you're high-risk, they've designated special hours specifically for you. Regardless of when you visit, they have self-guided tours available and a brand-new visitor app that offers special insights and anecdotes.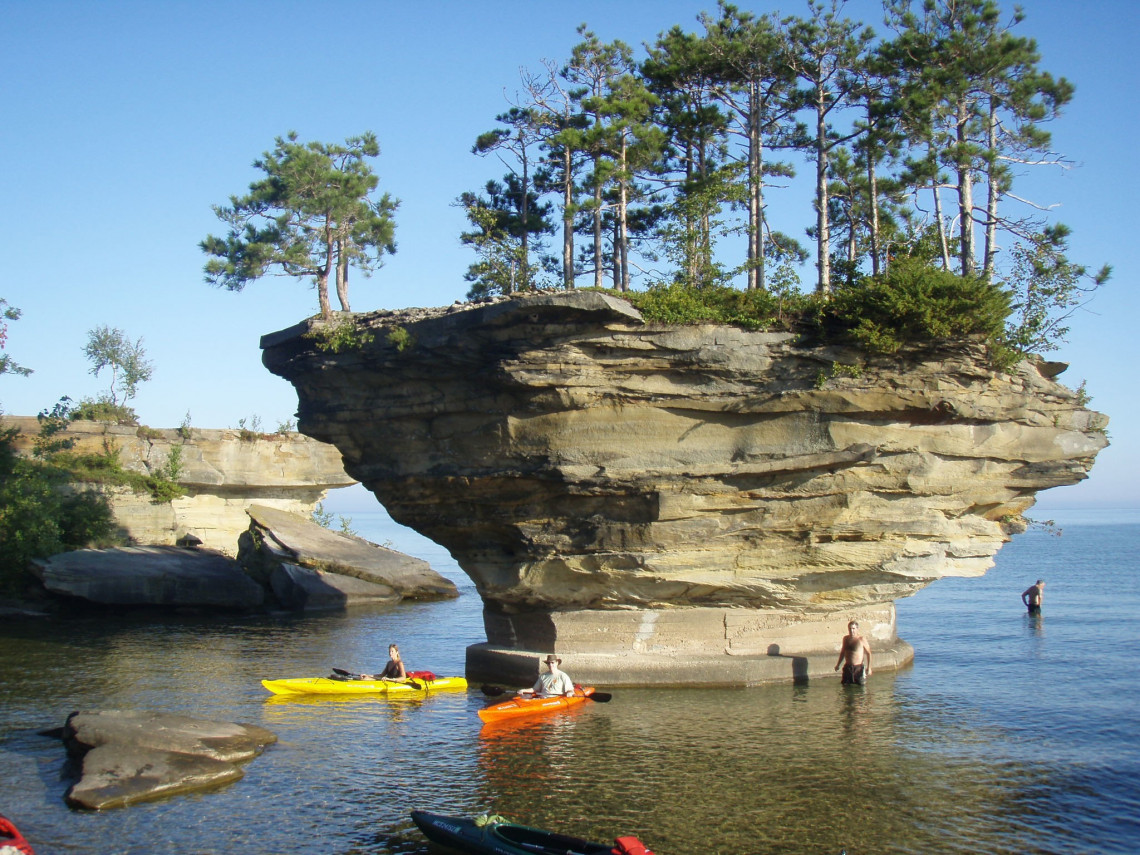 4. Port Austin
About two hours away, Port Austin is a little further than some of the other options, but it's a completely doable day trip and so worth the extra drive time! Turnip Rock is probably the best-known attraction, which is accessible to anyone who doesn't mind kayaking. If you'd rather skip Turnip Rock, there's also Port Crescent State Park, where you can enjoy a relaxing day at the beach, as well as a small downtown area great for grabbing something to eat. It's the perfect destination for enjoying some natural wonders, beaches, and food before heading home at the end of the day.
5. Metroparks
Huron-Clinton Metroparks offer a wide range of locations and activities for anyone looking for a way to get outside. Looking for a quieter location? Try Indian Springs. Want to spend some time on the lake? Lake St. Clair Metropark may be the place for you. Spend an afternoon hiking and fishing at Stony Creek, or watch for wildlife at Dehli. You can pay a small fee and get into one park for the day, or you can buy an annual pass for $40.00. If you're determined to make the most of your remaining summer weekends, these parks are a great place to start.
6. The Detroit Zoo
Yes, the zoo is open! And it's hard to find a better place for spending a great staycation day than the Detroit Zoo. Just keep in mind that you'll need to plan ahead, as zoo capacity is limited and tickets are time-specific (more details on safety precautions can be found here). The zoo can keep couples, kids, and families occupied for hours with its engaging animal exhibits, and is a great way to get out and stretch your legs if you need to walk somewhere else besides around the block over and over again.
What do you have planned for this summer?
If you're like us, the summer also means moving. If you're planning on selling your home this summer, let's talk.
Let's get started!